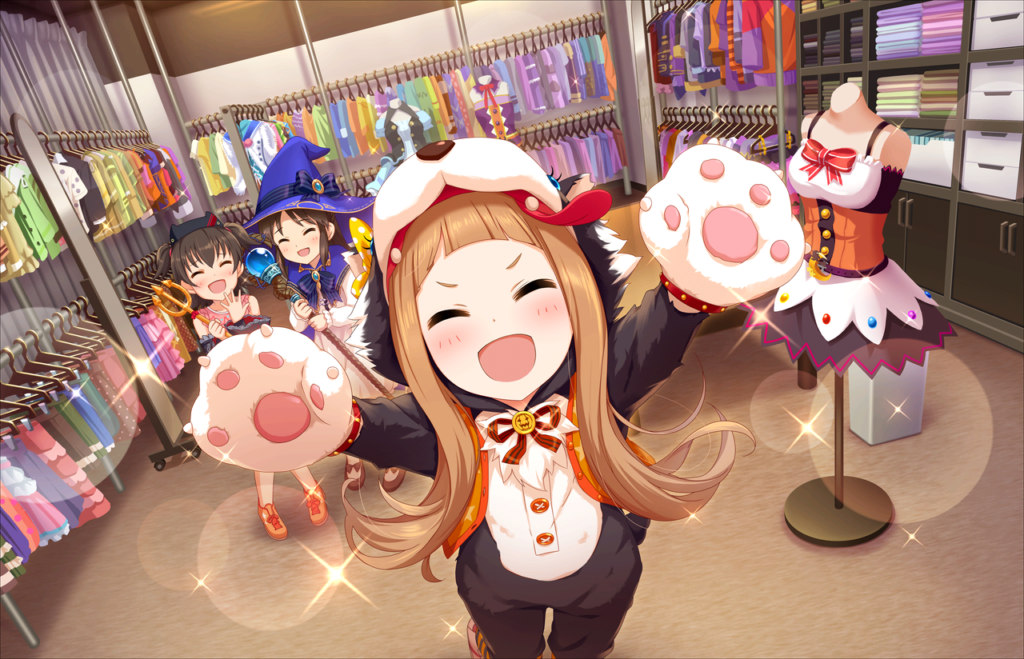 Shikkaricon will be hosting a Cosplay Contest on Saturday, October 19th, 2019! Come show off your performance skills and craftsmanship for a chance to win some awesome prizes.
Questions?: cosplay@shikkaricon.com
Registration
Pre-Registration opens for the Costume Contest on Monday, September 16th at 10AM and will close Saturday, October 12th at 11:59:59PM. A link for submission will appear at the top of this page, but will NOT be activated until the given time.

When the submission form is live, only one person in a group needs to fill out the form, but will be required to provide information on all members including stage ninjas.

There will be AT-CON registration for this event from 10AM to 2PM on Saturday, October 19th. TIME SUBJECT TO CHANGE.
Overall Rules
Entrants must be registered to attend Shikkaricon. This means entrants who are registering online for this event must be pre-registered for Shikkaricon. This includes all members of group entries. Group leaders should verify all members have pre-registered for Shikkaricon before registering their skit for the Costume Contest.

This is a family friendly event. As such, all performances & costumes may be kept to a PG-13 level. No explicit gestures, nudity, swearing, dancing, etc. Participants are expected to behave onstage and backstage in an appropriately mature manner in a family environment.

All costumes and props are subject to the Shikkaricon Convention Policies.

Anything you bring onstage with you, must come off with you. No toilet paper, tissues, rice, water, etc. Fireworks, pyrotechnics, or any fire in general is not allowed. Respect the stage and leave it clean.

Size and Mobility: You may have a handler if visibility or mobility is limited, but all persons & props must be able to get on and off the stage via the stage stairs without interrupting the event or causing undue delay for your fellow participants.

Each participant may only be involved in one skit each. You cannot participate in multiple skits.

Each group is limited to 5 people. This includes stage ninjas, as no more than 5 people are allowed on stage at any given time… even if they are dressed in camouflage.

Failure to report for your sign-in, rehearsal, and/or green room times is grounds for CANCELLATION of your performance. Being late or not showing up throws everyone else off schedule, so do not take this lightly!

Exhibition Entries (non-competing) are allowed, but priority for slots will be given to competing participants.

The Cosplay Coordinator has final say in all circumstances and disputes.

Stay in the designated area to which you are assigned. Anyone found loitering in areas that are off limits will be subject to dismissal from the event and/or the convention itself.

Source Material for entries can be from ALL GENRES . This includes Anime/Manga, Video Game, Fantasy & Science Fiction, Original Designs, Fan Art, Live Action, Comics and more.

Stage acrobatics: Because the stage is portable, it cannot take heavy abuse. Acrobatics or martial arts are not allowed. We will allow slower, choreographed, dance-like movements. Be sure to indicate such presentations when you register. Safety first! You don't want to be that person that's remembered for being sent to the hospital in front of the entire audience for doing something stupid!

Microphones WILL NOT be provided. Pre-recording of any and all dialogue & music is heavily advised, as the acoustics in the building are very rough. Live musical presentations are permitted– however they must be approved by the Cosplay Coordinator prior to the show.

Audio MUST be submitted in .MP3 format on a flash drive. NO EXCEPTIONS. You will receive your flash drive immediately during Check-In.

Tell us in advance of anything "unique" you have planned in your presentation. We will do our best to accommodate your requests, but are limited in what we can do and allow. The more we know ahead of time, the more we can work with you. Waiting till you check-in to ask for special clearance to do something is way too late!

If a participant is underage, the parental guardian must be present at all times.

Time Limit: 2 minutes.

Violating any Costume Contest or Convention rules will disqualify you. A severe violation could result in removal from the convention.

Shikkaricon Staff are not permitted to enter the competition.

PRINTED reference material is required. Even if a character is popular or well-known, reference material is needed in order to judge for accuracy. Lack of PRINTED reference will greatly affect scoring, as not every judge has knowledge of every detail of every character. Phones, laptops, tablets, and anything similar will NOT be accepted. It is highly suggested a thin folder with pockets or brads should be used to present your images. Progress pictures of construction work may also help, but remember that judging time is very limited and the judges do not have the time to look through pages upon pages of references and will revisit during the deliberation process.
– Recreation: Quality printouts of screen-captures, official images of characters, and art book images are acceptable.
-Original Designs: An inspiration sheet must be submitted. This includes a sketch and images used for inspiration. Do not submit a vision or mood board.
Masquerade Check-in
The group leader of a pre-registered entry must check in at the Cosplay Dept Table Saturday, 9AM to 11AM. Failure to show up during this time period means your slot will be dropped and made available to another group.

Should you need to cancel your entry, please inform the Cosplay Department as soon as possible. We completely understand last minute issues, nerves, etc.

Audio MUST be delivered at this time!
Awards
 Awards will be given as the Cosplay Coordinator sees fit for the competition.  Depending on the size of the event, there will be a 1st, 2nd, 3rd place, and a Youth award or Divisional awards (Youth, Beginner, Intermediate, Advanced).  

In order to be eligible for "Best In Show", a group must have completed both Craftsmanship & Presentation judging.

The Spirit Award will be given to the contestant that best represents Cos-positivity.

If there are insufficient entries in a Division or Category, the judges have the right to not assign an award.
Words of Wisdom
Short and to the point is always more memorable. Just because you have a full time limit, does not mean you have to fill that entire time limit. Think of the presentation as a commercial for what you are sourcing. Keeping the audience's attention focused is central to a presentation.

Always run your presentation by someone who is not familiar with your source material and see if they 'get' it. If they are left scratching their head in confusion, then you may want revise your idea.

Remember that you want the poor guy stuck in the far back row to be able to understand and see what's going on just as much as the person who snuck into the front row, so over-exaggerate movements and don't clump up together if you can help it! If you can't see what's going on from at least 20 feet away (including reading signs), then you may want to rework your choreography (and invest in better sharpies/paint).

Above all, make sure you have a beginning, middle, and end. Don't just randomly break into song and then run off stage because you are not sure on how to end your skit!

All participants are asked to have an Butterfly sticker on the back of their badge. If the participant's badge is inspected by any Cosplay Staff and the participant is found to have brought their sticker as asked, you will be awarded with our appreciation for having read the rules entirely. Appreciation might be in the form of another sticker, a charm, a pin, a snack, a pat on the head, or even special consideration during our sacrificial ceremony (meaning it won't be you we sacrifice to the cosplay overlords).

Let's have some Fun!